M57 Straight From Delancey - Episode 7 - The Stormy Weather EP Episode
M57 Straight From Delancey- Stormy Weather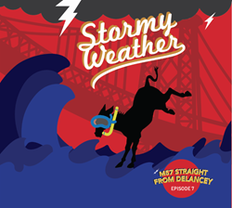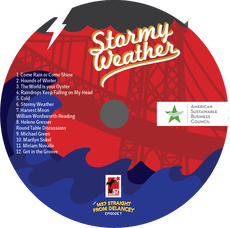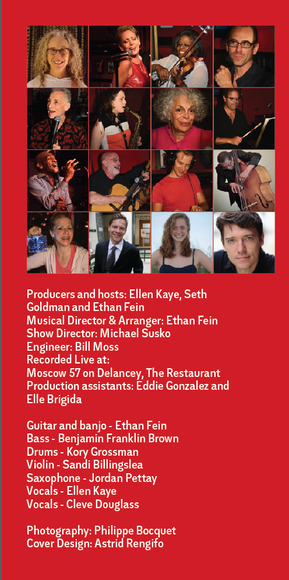 Moscow 57, the once New York-based hospitality and entertainment company, released a listening card for its virtual CD, "Stormy Weather" at the American Sustainable Business Council (ASBC) 3rd Annual Washington, DC Summit, November 12 – 14, 2014. 

Stormy Weather opens with Cleve Douglass singing "Come Rain or Come Shine" and features Ellen Kaye, then owner of Moscow 57 singing the title tune, as well as Annie Lennox's "Cold"; "Raindrops Keep Falling on my Head"; "The Hounds of Winter," by Sting; Neil Young's "Harvest Moon"; the original "The World is Your Oyster," by Kaye and Ethan Fein; and Sam Cooke's "Good Times," sung by Kaye and Douglass. The M57 Band accompanies both vocalists and features musical director Ethan Fein on guitar, Benjamin Franklin Brown on bass and Kory Grossman on drums. Also included are a reading of William Wordsworth by Helene Gresser and a series of interviews with members of the ASBC.

The songs and interviews in Stormy Weather were edited from Episode 7 of M57 Straight from Delancey, a weekly radio show heard on WVOX 1460 AM, New Rochelle, NY. It was timed to coordinate with UN Summit on Climate Change in NYC. The radio show and the "virtual EP CD" is produced by Ellen Kaye, Seth Goldman and Ethan Fein.​​
The theme of the show, coordinated by the American Sustainable Business Council, is "Stormy Weather – The Business of Addressing Climate Change." Among the guests on the show who are heard on the CD are ASBC members Michael Green, program director for the Climate Action Liaison Coalition and Miriam Novalle of T Salon, who brought tea cocktails for the audience to enjoy during the show. Also appearing is actor/comedian Marilyn Sokol. The listening card was handed out to participants of the summit, both ASBC members and the policy makers they met with. 

"Most policy-makers agree that economic inequality is a failure of the market, but they disagree on what to do about it," said ASBC's Vice President of Policy Richard Eidlin. "Our solutions are a mix of traditional policy interventions such as increasing the minimum wage and improving access to credit, as well as innovative, market-based ideas and business models that provide greater opportunities for worker ownership. We need to move quickly to a more robust economy that provides a better balance of gains across the economy and in a way that is sustainable."

As economic inequality remains a key national policy concern, ASBC believes that economic inequality slows the economy and presents a barrier to a fully productive workforce. The business advocacy organization promotes such solutions as increasing the minimum wage, employee ownership, access to credit for small businesses, and assistance for micro-enterprises.